Meta-Funka Accessibility Hackathon
2022
We are happy to announce the winner of the Meta-Funka Accessibility Hackathon: Sofja Isačenkova, from Turība University in Riga, Latvia.
Sofja submitted "Infigence", an app designed to assist people with neurodivergence in everyday tasks, addressing issues such as overstimulation of the surrounding environment, detecting and understanding social clues and concentration.
The jury were extremely impressed by the clear explanation provided by Sofja of the Infigence solution and how it would benefit the neurodivergent community, a community which is often overlooked when it comes to accessibility solutions. The jury also highlighted how the solution was very sensitive to the undiagnosed people who can benefit from these solutions but may not know or perhaps consider themselves disabled.
"Infigence proposes a good balance between existing features and creating an open architecture for adding innovative new solutions. This ability to personalise features to tailor them to an individual is compelling and particularly useful for the neurodivergent community. The judges all agreed that this proposal could truly be made into a real product in the future", Mike Shebanek, Head of Accessibility at Meta and Chairman of the Hackathon Jury said while presenting the winner.
The winner Sofja will receive $1,000 and a Meta Quest 2 Virtual Reality headset. Congratulations!
The final
More than 30 really good ideas for accessibility solutions were submitted from across the EU this year, and selecting the finalists were not an easy task.
Three finalists presented their solutions at the online event on the 30th of November, celebrating the European Day of Persons with disabilities. The runners up were:
Ángela Sara García Álvarez, Jud Armengol Mora and María Martínez Castro from the Rovira I Virgili University in Tarragona, Spain. They presented "Slify", a lightweight electronic device intended for people with sever hearing and visual sensory disabilities, that would translate any type of text and information from their surroundings into braille.

Ariadna Riscos, Samjhana Font and Beatriz Molina, also from the Rovira I Virgili University in Tarragona, Spain, presented a sign language translator. Their solution, capturing and building on existing technologies on the market would capture and covert text into sign language.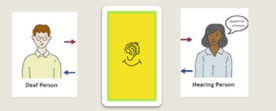 We would like to congratulate all the applicants to this year's Hackathon for their creativity and commitment to helping the world become a better place for persons with disabilities.
Meta-Funka Accessibility Hackathon Final, on YouTube, opens in a new window
The jury
The distinguished jury, covering the perspectives of policy, end users and industry included:
Inmaculada Placencia Porrero
Senior Expert in Disability and Inclusion at Directorate-General Employment, Social Affairs and Inclusion at the European Commission.
Robin Mássart
Policy Assistant working at the Directorate-General for Communications Networks, Content and Technology at the European Commission
Tanja Kleut
ICT accessibility expert to the European Parliament
Alejandro Moledo
Deputy Director and Head of Policy at the European Disability Forum
Barbara Martin Muñoz
Vice president of the European Blind Union
Andy van Hoorbeke
Member of the board of the European Union of the Deaf
Christopher Patnoe
EMEA Lead for Accessibility and Disability Inclusion at Google
Mike Shebanek (Chairman)
Head of Accessibility at Meta
Jesse Beach
Engineering Manager, Specialist in Accessibility at Meta
Susanna Laurin
Chief Research and Innovation Officer at Funka
Background
Meta and Funka have been co-organising a joint virtual Hackathon on accessibility and inclusion since 2020. Students from across Europe participate and create innovative digital solutions for increased accessibility. Three submissions are selected to be presented in the Hackathon event to a panel of judges consisting of representatives of disabled persons organisations, accessibility experts and EU-level policy makers.