The Italian open innovation awards of the ProMIS "Competition for digital transformation of processes and products in the health
sector"
Last 7th October ProMIS – Mattone Internazionale Salute Programme organised in Rome (Italy) an award ceremony – in the framework of the Italian EIPonAHA Reference Sites group - where the finalists of the Competition for digital transformation of processes and products in the health sector, promoted by ProMIS, presented their project proposals.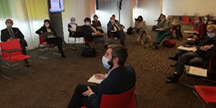 Participation in the competition was open to all those who are engaged in the health sector and contribute to the creation of "open innovation" tools which would speed up the digital transformation of processes and products addressed to active and healthy ageing environments.
The digital tools should have impacted on the following 3 dimensions: service and/or health professionals; patients and/or citizens; economic and sustainability of the project. The projects should have involved members from at least: a) a Local Health Units; b) a Territorial Research centres/Competence Centre; c) a Local digital SME; d) a Local/Regional patient association.
A total of 8 out of 12 proposals had the opportunity participate to the assessment step where an evaluation committee made up of experts representing the Italian Reference Sites of Campania Region, Tuscany Region and Autonomous Province of Trento defined the ranking list. In addition, there was an online vote that contributed a percentage of the final tally.
The winner, that was awarded with € 5.000, was the "What Happens Seeing a Butterfly" project (lead by the Local Health Unit of Naples - Campania), whose activities are aimed at a rehabilitation intervention with digital technique dedicated to attentional and visuospatial disorders in Parkinson's disease after neurophysiological evaluation through cognitive evoked potential event stimulus-correlated.
The "New digital platform for multiparameter evaluation and home clinical management of heart failure patients" project (lead by the Local Health Unit of Latina - Lazio) got the second place – and a € 3.000 award. This project proposed to monitoring multiple clinical and instrumental parameters at home through the use of a digital system where patients are able to measure blood pressure, heart rate, oxygen saturation on a daily basis thanks to specific devices, then transmitting them to a team of cardiologists, nurses and software specialists for their evaluation and interpretation.
Finally, the "Smart Health Platform" project (lead by the Strategic Regional Agency for Health and Social Affair of Puglia) got the third place – and a € 2.000 prize. The proposal focused on testing a "functioning model" aimed at integrating worlds that, in the current panorama of digital solutions, appear distinct: a) the management of the Integrated Care Pathway; b) the use of technologies, both consumer and medical device, for the measurement and monitoring of events that were traditionally told by patients to doctors and that today, thanks to IoT technologies, become better quantifiable e.g. physical activity, diet, sleep habits, environmental quality, behaviour in general.
After the award celebration, the 8 project representatives and the evaluation committee members suggested to launch a new call of ideas/projects in order to engage public and private sectors to discuss about how to match at best offer and demand in terms of digital services and products to be realised in the AHA context.